I just became a parent and I don't feel like myself.  What should I do?
It's normal to have times where you feel sad, overwhelmed, and stressed out when you have a new baby, so sometimes it can be tough to tell if mood changes are safe and will pass on their own, or if they are a sign that you are living with a postpartum mood disorder. 
If you haven't been feeling like yourself and aren't sure where to start, download the Postpartum Mood Disorder Check List to see if any of these symptoms resonate. If you're not sure, book a free meet and greet or speak to your family doctor to explore diagnosis.

I have postpartum depression/anxiety and am processing the diagnosis. Can I get more information about it? 
There is no right way to respond to getting diagnosed. It is normal to be confused, angry, disappointed, embarrassed, or relieved.  Learn more by downloading out my Understanding PPD/A model and read more about where postpartum mood disorders come from here.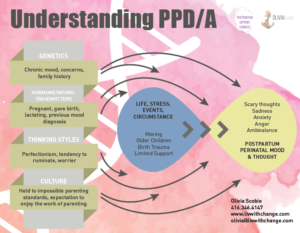 I want to start feeling better. What should I do next?
Everyone recovers from PPD/PPA in their own unique way and I'm here to help you figure out what that is going to look like for you.  You can start by booking a phone call for us to talk one on one, so I can hear a little about what is going on for you and you can tell you about how I work.
You can also check out my blog post Which Type of Therapy is Best for your PPD?  It should help you get a sense of what kind of therapist you are looking for.
If you are struggling with intense anxiety, you can also download my Anxiety Tip Sheet to help get you through tough moments.